Team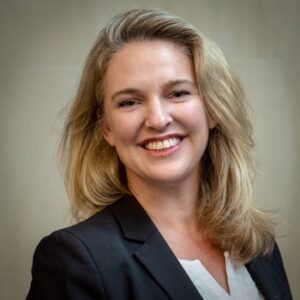 Kristin Richmond
Managing Director
As a Managing Director of the Foundation, Kristin Richmond plays a lead role in sourcing new investments and working with the leadership of those organizations as an operating partner and board member as they grow to build capacity and to achieve their maximum impact. As a member of the Foundation's senior leadership team, Kristin also helps to execute the Foundation's strategy and goals and contributes to its thought leadership and external outreach.
Kristin, who was previously a Senior Fellow for DRK, is a champion of healthy  family  nutrition and citywide wellness, serving as co-founder and CEO of Revolution Foods from 2006 to 2021 and Chairwoman of the Board through 2022. At Revolution Foods, Kristin's mission was to build lifelong healthy eaters by serving healthy, delicious, and affordable meals in many of our nation's most at-risk communities. Revolution Foods' efforts to tackle the growing food insecurity trend through innovative public-private partnerships expanded access to healthy food across 400 cities nationwide. Revolution Foods has designed, produced, and distributed approximately 800 million culturally relevant, chef-crafted meals to schools and community segments, including school districts, charter networks, food banks, senior centers, homeless shelters, and citywide feeding programs. With over 2,000 employees, Revolution Foods was recognized three years in a row by Harvard's Initiative for a Competitive Inner City (ICIC) as one of the top 100 highest-growth inner-city job creators in the United States. Revolution Foods has been named as one of Forbes' "Seven World-Changing Companies to Watch," Fast Company's "World's Most Innovative Companies" in 2021, and B Corp's "Best for the World" companies in 2021 and 2022.
Kristin began her career at Citi in Investment Banking on the high yield leveraged finance team. From 2000 to 2002, she lived in Nairobi and co-founded the Kenya Community Center for Learning (KCCL). Before pursuing her MBA, Kristin worked at RISE, focusing on teacher retention and support in US public schools. She was also a member of the White House Council for Community Solutions during President Obama's Administration.
Much of Kristin's life work has been dedicated to helping youth achieve greater academic outcomes, helping drive systems change through innovative municipal partnerships, and championing purpose-driven business as a critical part of next-stage effective, multi-stakeholder capitalism. She is a frequent guest lecturer at UC Berkeley and Stanford and currently teaches the MBA course Business Models For Social Impact at the Haas School of Business.
Kristin is also an Aspen Fellow, an Ashoka Fellow, and a Young Global Leader of the World Economic Forum. She is on the Board of Directors of Generate, a leading clean energy investment and operating company, Food For Education in Kenya, and U.C. Berkeley and Ideagarden's Plant Futures Initiative. In 2020, Kristin was recognized as one of Inc.'s "Top 100 Women Entrepreneurs."
She holds a Bachelor of Science in Finance and Accounting from Boston College and an MBA from the University of California, Berkeley.