Team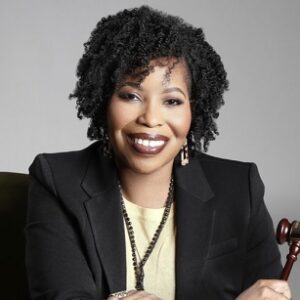 Shelyna Brown
Senior Fellow
Shelyna Brown has over two decades of experience in the legal and leadership arenas. She is a former public defender, who since 2012 held the office of Superior Court Judge at the Superior Court of California, in the county of Santa Clara. Prior to joining the superior court, Shelyna was an attorney in the Santa Clara County Public Defender's Office from 1997 to 2011.
Shelyna's expertise resides in social justice advocacy, public policy development, process improvement, and Diversity, Equity and Inclusion (DEI) development. She is a reputed thought leader and has gained unique perspectives as a Superior Court Judge, a Senior Litigator, a Certified Mediator, and as an Executive Coach working across all demographics to settle disputes, resolve problems, address crises, and support personal and community reform.
She is the Co-Founder and Co-Chair of the Equality and Social Justice (ESJ) Committee for Santa Clara County, where she responds to the global outcry against racism, unconscious bias, and the call for police accountability. She is also currently on an Advisory Board at San Jose State University for a student-led organization working to prevent recidivism and ways to assist those coming out of jail. She is also an active member of the American Leadership Foundation.
Shelyna is a graduate of the University of California, Davis, and holds a Juris Doctorate (JD) from the Santa Clara University, School of Law.