Team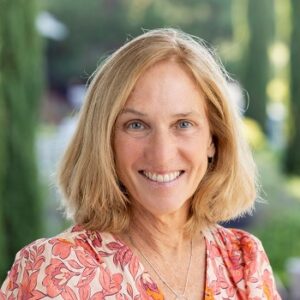 Elizabeth Berry Gips
Venture Partner
As a Venture Partner, Liz helps to source new investments and to support the Foundation's portfolio organizations in Africa, Europe, and India. She supports the leadership of portfolio organizations as they grow and build the capacity to achieve their maximum impact. Liz currently serves on the board of DRK grantees accesSOS, Fundi Bots and SmartStart.
Liz has three decades of experience in education and leadership development. She has served as a leader, entrepreneur, and strategist for a variety of organizations in the non-profit, academic, and public sectors. Most recently, Liz served as the founding Executive Director of the Kigutu International Academy (KIA), a transformative secondary school developing a new generation of entrepreneurial leaders in Burundi. Liz led the planning, launch, and initial operations of KIA. KIA is an integral part of Village Health Works, a Burundi-based non-profit where Liz also served as the Chief Strategy Officer.
Liz has also served in senior roles for the African Leadership University and African Leadership Academy (ALA), two institutions that have pioneered the development of ethical and entrepreneurial leaders. Currently, Liz is a Trustee of the African Leadership Academy in South Africa and is Board Chair of the African Leadership Foundation, ALA's US-based 501c3. Earlier, Liz worked at the Mastercard Foundation, assisting with the development of their education strategy for sub-Saharan Africa and with the design and implementation of a major education initiative in Rwanda. Liz also served in leadership roles for USAID. She was the USAID Coordinator for the Young African Leaders Initiative (YALI), a legacy initiative of the Obama administration. She was also a Senior Education Advisor to USAID in South Africa, working in partnership with the Department of Basic Education and other funders to identify and scale innovative approaches to teacher development. Earlier, as the Executive Director of Global Education Fund, Liz led the establishment of community-based education programs in Kenya and beyond.
Liz currently serves on several advisory boards, including Girl Rising-Global Education Fund and the School of Leadership Afghanistan. Liz is a member of the President's Council on International Activities at Yale University and the Council of Global Advisors at the Yale School of Management. Liz received a BA degree from Williams College and an MBA from the Yale School of Management.