Team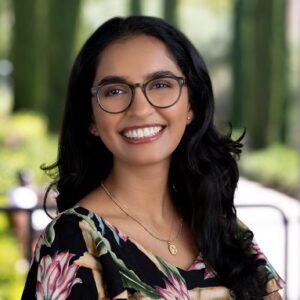 Roshni Patel
Project Coordinator and Administrative Assistant
Roshni collaborates with the DRK team in a variety of operational and administrative capacities. In partnership with Kristina Hudelson, Legal and Financial Operations Lead, Roshni is responsible for sustaining data integrity and portfolio logistics, spearheading project coordination and managing special projects. She works with Nancy Huang, Chief of Staff, on retreat planning and coordinates with other colleagues on special events in DRK's Menlo Park office. Roshni also provides administrative support to Kris Richmond, Managing Director.
Prior to her role at DRK, Roshni served as the Director of Operations for a prominent design firm in Los Angeles, where she managed large-scale residential and commercial projects by closely collaborating with clients and contractors. Her professional journey spans diverse industries, including media, legal services, and advocacy for the arts, having contributed to the mission of Arts for LA, a non-profit organization dedicated to arts advocacy.
Roshni graduated with honors from Pitzer College with a Bachelor of Arts in Sociology. During her time at Pitzer, she chaired the Pitzer College Events Board and served as a Resident Assistant.