Team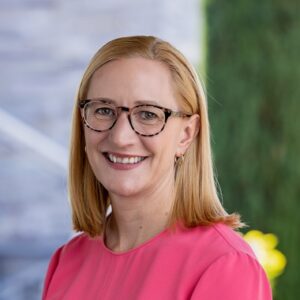 Holly Kuzmich
Managing Director
As a Managing Director of the Foundation, Holly Kuzmich plays a lead role in sourcing new investments and working with the leadership of those organizations as an operating partner and board member as they grow to build capacity and to achieve their maximum impact. As a member of the Foundation's senior leadership team, based in Dallas, Texas, Holly plays a lead role in increasing the Foundation's presence, portfolio investments and donor partnerships in Texas and the Southwest region.
Holly has 25 years of public policy and leadership experience, serving in senior positions in the government, non-profit, and private sectors. At the Bush Institute, a solution-oriented nonpartisan policy organization focused on ensuring opportunity for all, strengthening democracy, and advancing free societies, Holly led the team in developing and implementing major policy and programmatic initiatives on key issues of national and global importance. She oversaw the organization's strategy on leadership development, with four leadership programs graduating over 1,000 alumni to date from around the world. Domestically, she led their efforts to push for comprehensive immigration reform and developed key alliances and partnerships in support of that effort. Globally, she shepherded the Bush Institute's public-private partnership on global health that scaled up screening and treatment for cervical cancer for millions of women in sub-Saharan Africa.
She is a veteran of the White House, U.S. Department of Education, and Capitol Hill, where she developed her expertise in education policy. She served on the staff of the White House Domestic Policy Council and then as Deputy Chief of Staff and Assistant Secretary for Legislation and Congressional Affairs at the U.S. Department of Education. Prior to that, she worked for two United States Senators on domestic policy issues. She has also consulted on education and workforce issues with major foundations, companies, non-profits, and policymakers.
Holly also served as a Resident Fellow at the Institute of Politics at Harvard Kennedy School, is a Pahara-Aspen Institute Fellow, and a member of the Aspen Global Leadership Network. She serves on the boards of the Gates Policy Initiative, the Institute for Citizens & Scholars, and the Dallas Assembly. She is also active in the community as an alumnus of the Texas Lyceum and a member of the Dallas Citizens Council.
Holly is based in DRK's new Dallas office.