News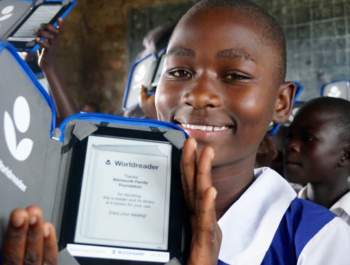 Worldreader Receives Schwab Social Entrepreneurship Award
March 1, 2016
Worldreader founders, David Risher and Colin McElwee, are among the 2016 Schwab Social Entrepreneurs of the Year.  Each year the Schwab Foundation selects a small number of social entrepreneurs to join their ranks and be integrated into the events of the World Economic Forum.  David and Colin are among 12 honorees, who this year will join an existing community of 300 outstanding Schwab Foundation Social Entrepreneurs.
Worldreader is creating a future where everyone can be a reader.  Using low-cost technology, a personal digital library, and a worldwide network of corporate and non-profit partners, it helps millions of people reach their potential.
"Worldreader is thrilled to be part of the Schwab Foundation's efforts to advance leading models of social innovation. Our impact depends on great partnerships; thanks to this recognition, we're closer to creating a world where everyone can be a reader."
Read the article here.