News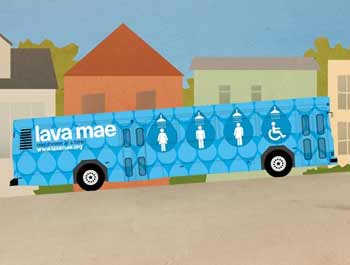 NYT Features Lava Mae's Efforts to Convert Buses into Showers for the Homeless
January 1, 2015
There are thousands of homeless people in San Francisco and scant access to public bathrooms. We associate sanitation problems with the Third World, not the First, but the fact is that even in a city like this one, bursting from all its economic growth, more than 7,000 people are homeless and without places to sleep — or go to the bathroom.
Lava Mae (a play on "wash me" in Spanish) converts old city buses into showers for the homeless because there are only eight shelter facilities in San Francisco that offer public showers. LavaMae uses a repurposed city bus outfitted with two shower-and-toilet modules to "deliver dignity, one shower at a time."
The idea for LavaMae was born from the frustration of a public relations executive, Doniece Sondaval, who witnessed the rapid gentrification of her neighborhood — and the displacement of neighbors that has come with it. To pull off this modestly scaled but expanding endeavor, she has assembled an eclectic group of public and private sector partners, from Google to Kohler to the San Francisco Department of Public Health, to provide a basic service. Its implementation — requiring everything from access to fire hydrants to the obtaining of street parking permits — has been arduous, but that bus, once destined for the scrap heap, now assists in deterring potential public health problems and, perhaps most critically, in helping a population struggling to retain its dignity.
Read the article here.