News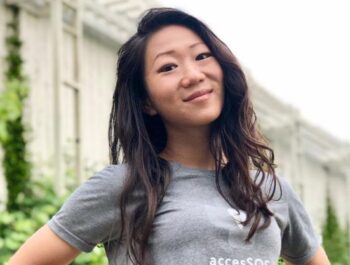 911 is a Literal Lifeline in Our Worst Moments. Why Does the System Favor Voice Over Text?
November 7, 2023
In half of emergency call centers, you can't send a text to 911 if you need help. A few years ago, what happened to my Deaf father terrified me into action.
Posted in USA Today on November 7, 2023
By Gabriella Wong
To learn more about DRK Foundation, contact kshehade@drkfoundation.org.
On a Wednesday evening in Lewiston, Maine, a group of Deaf friends gathered at a local bar to play cornhole, just like they did every week. These gatherings were meant to be moments of happiness and community, much like the evenings I spent with my Deaf parents and fellow community members.
However, tragedy struck when a shooter entered, resulting in the loss of four friends. They were among the 18 lives lost at the bar and a nearby bowling alley.
Shockingly, in nearly half of the 911 call centers in our country, you can't send a text to 911 if you need help. This means that people who are Deaf can't use their phones to send a text message when they're in trouble. Even in places where you can text 911, it often falls short in accurately determining the caller's location, putting vulnerable individuals at risk.
Maine does have text to 911, and promotes it with the slogan "Call if You Can, Text if You Can't." However, many in the Deaf community find this slogan unfair and disrespectful because it seems like 911 favors voice calls over text.
Reports from the Lewiston tragedy on Oct. 25 reveal a stark truth: Despite the fact that the affected community was Deaf, the timeline reports of the shooting solely reference 911 calls and do not acknowledge any texts sent to 911.
This highlights a significant gap in awareness, education and outreach efforts aimed at informing the community about this vital lifeline.
What happened to my Deaf father terrified me
A few years ago, during a medical emergency, my Deaf father was not able to call 911. This caused a delay in getting him the help he urgently needed.
The terrifying experience led me to establish the nonprofit organization accesSOS, aimed at creating a text-to-911 solution.
We've developed a free app that empowers anyone to provide detailed information to emergency dispatchers. This critical service is not just for the Deaf community; it also helps people who don't speak English well and those in dangerous situations who can't talk to 911 dispatchers.
We call upon the Federal Communications Commission, Congress and the Department of Justice to make the nationwide implementation of text-to-911 technology a top priority. But our efforts don't end there. We must also prioritize and allocate funding for extensive educational outreach and awareness campaigns to inform everyone about the availability of text to 911.
It's time to eliminate the "call if you can, text if you can't" marketing approach, taking a critical step toward providing a lifeline to all those requiring immediate help. The time for equal access to 911 is now.
Gabriella Wong is the founder of accesSOS, a nonprofit organization dedicated to ensuring that Deaf individuals and those with disabilities have access to emergency services.