accesSOS
Model & Strategy
Traditional emergency systems are outdated and do not address the needs of those who have communication disabilities. 37 million Americans are deaf or hard-of-hearing, and 28 million more have limited English proficiency. These 65 million people and many more cannot easily communicate by phone voice – including those with autism, speech disabilities, cerebral palsy and other conditions – face life threatening barriers to accessing emergency services by 911. Almost 50% of deaf individuals have reported difficulty accessing emergency services, according to the National Association of the Deaf (NAD). accesSOS fills the gap and offers immediate access to emergency services, providing a solution that is inclusive and accessible to all.
accesSOS's text-to-911 app gives access to emergency services to people who are deaf, hard of hearing, have speech disabilities, or speak limited English. The app brings this vision to life by offering a text-based alternative to calling 911, which is often inaccessible to these groups of people. The app works by asking the caller a quick series of questions about the emergency they are having. This helps 911 respond to the call and can redirect calls that are better served by other support services, such as the National Suicide Prevention Lifeline. accesSOS is providing a life-saving tech solution that enables direct access to emergency help for the deaf community, while using its innovation as a platform to build awareness and advocate for national adoption of text-to-911.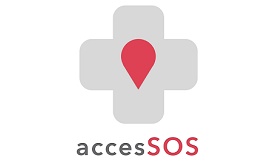 Founded: 2019
Health
Location of work: Domestic, Northeast, West Coast, Midwest, Southwest, Southeast, South Central
accesSOS
San Francisco, CA
Making emergency help accessible for everyone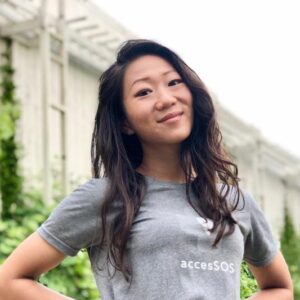 Meet Gabriella Wong
Gabriella Wong is the founder of accesSOS, a nonprofit tech organization dedicated to providing emergency services for those who are deaf or hard of hearing, those with speech disabilities, and those who speak limited English. As a child of deaf adults (CODA), Gabriella has lived through the helplessness of seeing her loved ones in trouble but unable to access emergency help due to their disability. Her personal experiences, including her father's inability to call emergency services when he had a medical emergency, have driven her to use the power of technology and advocacy to expand accessibility.
With a Master's in Public Health from Columbia University, Gabriella is well-equipped to tackle this issue. She is a UC Berkeley CTSP Fellow, a Camelback Fellow, and a Roddenberry Fellow, and has been recognized for her work in various media outlets, including Forbes, the MIT Social Impact Blog, Founded by Women, and ABC 7 News. In addition, she serves as the Co-Chair of NENA: the 911 Association's Communication Modalities Group and is part of working groups that focus on accessibility and emergency notification for persons with disabilities.
Gabriella's fluency in American Sign Language and her passion for improving the lives of people with disabilities make her a true advocate for those in need. Her life's work of fixing this critical problem is a testament to her commitment to creating a more inclusive and accessible world.
Impact
Launched accesSOS app "contact911.org" in Santa Fe, NM, covering a population of 89,000 people without text to 911 capabilities
Offered app in multiple languages, including Spanish, Chinese, Arabic, and Vietnamese with more languages on the way
Platform "text911.info" was used in 2,000 searches and featured as a resource on the National Association of the Deaf's text to 911 page
Reached 400,000+ people through advocacy efforts on social media
Filed briefings with the Federal Communications Commission regarding text to 911 and 988 accessibility for persons with disabilities