News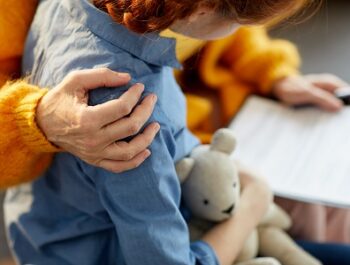 Children Are At The Front of a Mental Health Crisis
April 13, 2023
A 2022 report says 1 in 5 children in the U.S. have a mental, emotional, or behavioral disorder.
Posted in Scripps News on April 13, 2023
By: Lindsey Theis
Mental Health America's latest report says 1 in 5 children in the U.S. have a mental, emotional, or behavioral disorder and they are not getting the care they need. About 60% of children with depression do not receive any mental health treatment.
For the majority of Americans, the first people we'll see with any health problem is your family doctor, or for your kids — the pediatrician.
Research shows that by 2024, the country will be short somewhere between roughly 14,000 to 31,000 psychiatrists. One of the ways the medical community is trying to combat this shortage is by training family care physicians and primary care providers.
On a recent, rather quiet Friday morning in Palm Beach, Florida, Ruthie Bunkelmann is taking advantage of the calm. She's brought her young adult children to the doctor.
They wait in the back, an alright spot for her son Ethan. Ethan has autism, a developmental disorder — and anxiety, a mental health disorder. Emily, his sister, has severe anxiety. Her big chair makes her feel safe. Her big headphones mean "Don't talk to me."
"The unknown is a big trigger for her," Ruthie says. That includes our camera, so mom is talking for them.
Ruthie Bunkelmann is also a social worker. She explains that growing up, Emily and Ethan have struggled. Their brother died from cancer when he was just five. "After losing a child, it gets more questionable … But I have total faith in him," Ruthie says.
"Let me take a listen to your heart," says pediatrician Dr. Tommy Schechtman, who is that trusted "him."
"So are you on spring break or are you guys still having classes?" he asks Emily.
In this routine checkup the doctor observes her heart and lungs, and Emily's responses, body language, and expressions. He says they're cues into Emily's mood. Dr. Schechtman started this practice twenty-five years ago, putting mental and physical health care in the same place. "We have social workers as part of our team, mental health counselors, and we have case managers," says Dr. Schechtman.
Lindsey Theis: You've been using this integrated care approach for a number of years, decades even. What was the foresight there?
Dr. Schechtman: In my early years, I recognized that probably 75% of what we do in pediatrics is psychosocial. Most physicians have not taken that quantum leap into mental health. And for the most part, it's because we as physicians are not trained [in mental health] in medical school nor in residency.
Pediatricians study medicine at least nine years, and during that time they may spend 4 to 8 weeks focused on behavioral health. After they've completed medical school, a child psychiatrist will study mental and behavioral health for about five years. But there's simply not enough of those specialists — not by a long shot. The U.S. has about 14 child and adolescent psychiatrists for every 100,000 kids. Groups like The REACH Institute tell Scripps News they've been swamped with doctors interested in mental health training. We attended a (REACH Institute) training session, along with doctors from Utah to South Carolina.
"Our mental health has just gone through the roof, especially since COVID. I could do mental health all day, every day, and still not have enough time. So I wanted to be more prepared," says Dr. Amanda Drosieko, a pediatrician.
Teachers and many doctors themselves role-play the lessons. They include talking through medication options, or somatic symptoms when the body starts to show symptoms caused by anxiety, depression or other mental health conditions. This weekend is just the beginning. In the months to come the doctors here will work together, taking a look at their actual patients' cases.
Dr. Schechtman has done the classes and sends his staff to the sessions. That staff now includes mom and social worker Ruthie Bunkelmann. This puts them on the same team to treat patients like Emily's mental health. The results are a positive outcome.
Dr. Schechtman: So what are your plans for the next week, for this weekend?
Emily: Whatever happens, happens, I guess.
Dr. Schechtman: Okay, well, that's a positive, great looking and wonderful concept, but you did great.