News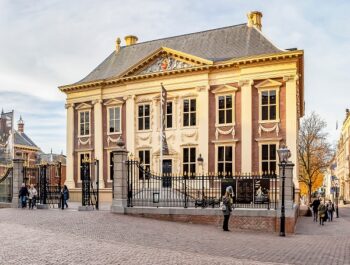 ImpactCity & DRK Welcome Global Entrepreneurs to The Netherlands for Impact Convening
April 28, 2022
ImpactCity The Hague and its partner the Draper Richards Kaplan Foundation (DRK) will welcome 45 social enterprise entrepreneurs who together are leading organizations reaching and improving the lives of millions of people across Europe, Africa and Asia when DRK hosts its first Global Convening in The Netherlands April 28-29.
"With ImpactCity we are striving to create a first-of-its-kind impact ecosystem that supports entrepreneurs who are focused on both economic success and social returns," said Deputy Mayor of The Hague Saska Bruines. "The DRK Foundation is one of the best-known funders of social entrepreneurs and we are pleased that they have chosen The Hague as the site for this event that mirrors our goal to create a strong environment for entrepreneurs who are working tirelessly to create a more equitable and sustainable world."
DRK supports both for-profit and nonprofit organizations, providing unrestricted, multi-year funding to its portfolio organizations, as well as rigorous ongoing support to entrepreneurs and organizations, including taking a board seat. Lisa Jordan, DRK's Hague-based Managing Director, 'With new vulnerabilities emerging every day across Europe the DRK convening will focus on being even bolder. Together we will determine how to be more intentional than ever to help those most vulnerable in society and share proof point upon proof point on what is possible.'
In partnership with Rabobank and ImpactCity, DRK opened its European headquarters in The Hague in October 2020 concluding that the city's impact-focused business environment and entrepreneurial ecosystem made it the ideal fit for the venture philanthropy's European headquarters.
DRK's portfolio includes some of the most impactful social organizations in the world.
Its portfolio organizations, in aggregate, are directly impacting over 220 million lives helping vulnerable populations have access to health, education, safe food and water, employment and other basic needs. The convening this month marks the first time that DRK has gathered its global portfolio organizations in Europe since the 2020 opening of DRK's headquarters in The Hague. The entrepreneurs participating in the DRK event will tour The Hague and its impact ecosystem.
"The timing of this convening has never been more important as populations across Europe, Africa and India face unprecedented challenges. Our international organizations are addressing these challenges in so many ways and in the aggregate are directly impacting more than 125 million lives for the better," said Jim Bildner, CEO of the DRK Foundation. "They are an incredible group of leaders working tirelessly in service to others. We are so proud to be partnering with the City of The Hague and ImpactCity to bring them together and help build their capacity for even greater impact."
In addition to 45 entrepreneurs from DRK's portfolio and DRK's leadership team, participants in the event will include the Mayor of Freetown, Sierra Leone, Yvonne Aki-Sawyerr and
Larry Kramer, the President of the William and Flora Hewlett Foundation.
About the Municipality of The Hague/ImpactCity:
ImpactCity The Hague is the city for entrepreneurs who want to build a better world. The city stimulates "doing good & doing business" in all kinds of ways, such as help with location, visibility, financing, network, good infrastructure and business advice. The Hague's locally rooted, yet strong international network connects NGOs, knowledge institutes, established companies, governments and many innovative entrepreneurs who are working to solve global challenges.
About DRK:
The Draper Richards Kaplan Foundation (DRK) is a global venture philanthropy firm that funds early-stage, social impact organizations solving the world's most pressing social and environmental problems with bold, scalable approaches. Since 2002, DRK has funded more than 200 organizations tackling some of the world's biggest challenges. DRK's portfolio includes organizations working both in the US and internationally, helping to provide critical access to healthcare, education, food security, social justice, water and sanitation, transparency and accountability, and shelter. Learn more about DRK's portfolio organizations here.