News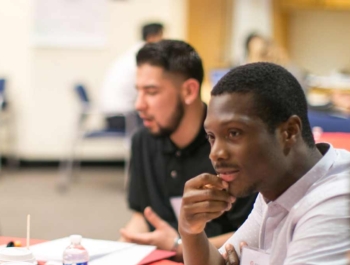 How To Make Good on the American Promise For All, Not Just Some
April 12, 2022
There are only some winners in today's job market—and then everybody else, writes Aimée Eubanks Davis, CEO of Braven. To share prosperity equitably, we must invest in career development for more women, first-generation college goers, and students of color.
Posted in Work Shift on April 12, 2022
By: Aimée Eubanks Davis
To learn more about DRK Foundation, contact kshehade@drkfoundation.org.
When you read some recent headlines, you might think that Americans on the whole are on the path to economic success. In December 2021, we learned that Americans saved a record total of $2.7 trillion. And, we're also constantly hearing that it's a candidate's market with 10 million job openings and only 8.4 million job seekers.
But, when we hear Americans, we cannot assume it's all Americans, and when we hear candidates, we cannot assume it means all candidates.
While Americans amassed trillions in savings in December, the majority of savings occurred in upper-income households. In fact, according to a CNBC survey in July 2021, 51 percent of Americans had less than three months' living expenses in an emergency savings account and 25 percent of survey respondents had no savings at all in 2021.
And, when you dig deeper into the data around the job market favoring candidates, you find a more complex story of some winners and a larger group of workers—often people of color and women—whose desires, experience, skills, and networks are mismatched with what the labor market still favors. And the mismatch isn't just about education: first-generation college graduates with bachelor's degrees have more trouble getting jobs than their "better-coached and better-connected" classmates, whose parents also graduated from college.
A college degree is still the surest path to economic mobility in this country, and we see needed systemic change in both higher education and the labor market to close gaps in postsecondary outcomes. In addition to obtaining their degrees, first-generation college students, people of color, and/or those who come from low-income backgrounds need career preparation that will help them land a strong first job.
That's key to ensuring that education delivers on its promise of economic opportunity for all.
At Braven, a national nonprofit that supports college students from humble beginnings on their paths to strong first jobs, we have identified four primary barriers that must be addressed.
The first is a lack of access to preparation in key career readiness skills. There are critical skills–problem solving, working in teams, and communicating and networking–that graduates are expected to have mastered, but are typically not taught.
The second is these students' battle with stereotype threat and imposter syndrome, which impede the confidence needed to get and thrive in a strong first job. Students are expected, but again rarely taught, to understand and be able to leverage their personal assets and to know how to navigate workplace culture.
The third is a lack of access to professional experiences. Often, students have significant academic, work, and family obligations that prevent them from being able to prioritize an internship, especially if it is unpaid. Employers are looking for candidates with internships that demonstrate a track record of results or a portfolio of work, but first-generation students are less likely to have those experiences. At large public universities, for example, students who are first-generation are 13 percent less likely to have internships than their peers.
Lastly, and probably most critically, these students lack access to a network of people who will mentor, endorse, and open professional doors for them. A study by LinkedIn revealed that individuals who grew up in a zip code with a median income over $100,000 are three times more likely to have a strong network than their counterparts from lower-income backgrounds.
Though big, this is a solvable problem. We've seen that when students are empowered with skills, networks, confidence, and experience, the American promise is attainable within semesters: 55 percent of Braven graduates nationwide are already out-earning their parents in their very first job out of college. By comparison, most Americans have a 50-50 shot of out-earning their parents by age 30.
Whether as an employer, college or university, or individual, we all can help level the playing field for our talented young people.
Employers can start by making careful choices in the search for talent. Specifically, they can go beyond algorithmic screening tools and start recruiting from universities out of their typical networks.
The NBA, for example, recently launched a fellowship program to provide educational and professional development opportunities focused on the business of basketball for undergraduate and graduate students at Historically Black Colleges and Universities. And Prudential has developed a multi-prong approach to recruiting from HBCUs—modeled after its long-term commitment to Rutgers University-Newark, a Hispanic-serving, medium-sized public institution that educates thousands of "commuter" students from underrepresented backgrounds. Those students have traditionally been overlooked because their time on campus is more limited.
Employers can also facilitate mentorship by exposing their staff to students outside of their typical networks through job shadowing, career days, and mock interviews. What's more, incentivizing referrals for people of color and ensuring that people of color have mentors and advocates in the workplace will help them advance.
Salesforce recently announced that pay for anyone at an executive VP level or above will be determined, in part, by their ability to meet diversity and inclusion goals around hiring, retention, and promotion. That kind of commitment contributed to the fact that the company met a core equality goal this year (a year early): to have 50 percent of U.S. employees from underrepresented groups by 2023.
Colleges and universities also have a critical role to play, and they can start by infusing high-quality career preparation into academic coursework. This would make career development activities—such as guidance on how to apply their major to the work of work or help creating quality materials for a job search—accessible to all students, including those who work or have family commitments that limit what they can take on outside of class. What's more, institutions of higher education can use existing work-study dollars to increase students' access to career-building opportunities, such as internships and research assistantships, that give students the skills and "at bats" needed for full-time employment.
For instance, Xavier University in Louisiana sends more African American students to medical school than does any other college in the country, in part by preparing them for their medical exams and assisting with medical school applications. Northeastern University's cooperative education model alternates semesters of academic study with periods of full-time work.
And finally, as individuals, we can all take the LinkedIn Plus One Pledge. In doing so, we each commit to sharing our time, talent, and connections with people outside our network who may not have access to the same resources we do.
Together and with great intentionality, we can close the wealth and opportunity gaps, helping to create a more equitable world for all.