News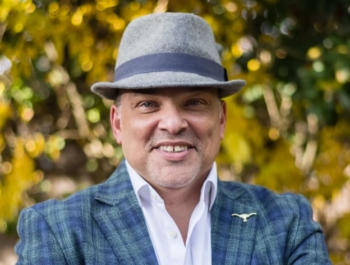 This Californian Is Working to Reduce Gun Violence
February 17, 2023
DeVone Boggan has an unusual yet effective way to prevent shootings: Mentor and pay young people who are seen as likely to commit gun violence otherwise.
Posted in The New York Times on February 17, 2023
By: Erik Vance
To learn more about DRK Foundation, contact kshehade@drkfoundation.org.
Gun violence continues in America on a daily basis. There have been 72 mass shootings so far this year, according to the Gun Violence Archive, and we're only on Day 48.
This week, three students were killed by a gunman at Michigan State University. Last month, shootings roiled California — in Goshen, in Monterey Park, in Half Moon Bay.
However, much of America's gun violence goes unnoticed because it happens in poor communities with chronic crime issues. Hours after the shooting that left seven farm workers dead in Half Moon Bay, an 18-year-old died and several people were injured in a shooting in Oakland that received relatively little attention.
But according to DeVone Boggan, founder of an organization called Advance Peace, in most cities a shockingly small number of young people are driving shootings. For example, when Boggan began his violence prevention work in Richmond in 2009, law enforcement experts told him that 70 percent of the violence was tied to just 17 people, mostly under the age of 20.
So Boggan, who was working for the city at the time, decided to try something new. After surveying law enforcement, local communities and gang members, he selected 21 people who were considered the most likely to commit gun violence in the near future. He then enrolled them in a mentorship program devised to teach them crucial life skills, healing from trauma and empathy for enemies, and to help them find a career path away from violence.
Members of this "Peacemaker Fellowship" were paid up to $1,500 a month, depending on their engagement level.
The project has been enormously successful, and Advance Peace is now active in California and three other states. The White House recently named Boggan as an adviser to its Community Violence Intervention Collaborative. Nearly 480 people have gone through the program, which includes intensive one-on-one mentorship and even travel to countries including South Africa, Jamaica, France, Britain and Mexico.
Here is a conversation with Boggan, lightly edited for clarity and space.
What is the basic idea behind Advance Peace?
It's simple. If you can engage those at the center of gunfire, you can reduce gunfire.
That means working with them every day to help them to first understand that they have other options available to them to resolve the daily conflicts that they are navigating. They have folks in their ear telling them, "Go, go, go." They rarely, if ever, have anyone in their ear saying, "Wait, pause. Think about this."
How effective has this been at reducing violence?
We started in Richmond in the mid-2000s. And when we got there, there were nearly 50 firearm-related homicides a year and nearly 300 firearm-related incidents where there was an injury. In 2022, Richmond had 50 shootings with an injury. And just 14 firearm homicides.
That's how you know it's working, because that's the trajectory in every one of the cities — the number of shootings plummets. Once you start working with those individuals who are at the center of all of that stuff.
How many California cities are you working in now?
Our first two cities outside of Richmond were Sacramento and Stockton. Then we moved on to Fresno, Woodland, Vallejo, Antioch and Pomona. Vallejo, Antioch and Pomona are just getting their legs, so we're just really getting them up and running. We have also worked in Salinas and San Francisco.
And then outside of California, there is Fort Worth, Texas; Rochester, N.Y.; Lansing, Mich.; and Orlando, Fla. We're looking at Portland and Milwaukee in 2023.
So you tend to work in midsize cities with outsize gun problems. How many people are actually driving that violence?
I'm going to tell you, man, I've found myself blown away by four things. One, it's a small group of people generally responsible for most of the gun violence in the city. It's not 200 people, it's a handful of guys. Two, that small group of people are rarely going to be indicted or prosecuted for their gun crimes.
Three, most of these guys aren't being served, supported, engaged or given attention by any public system or community-based system of care. They're invisible. Then finally, most community and public systems of care don't have the capacity to do anything with this population.
I found myself thinking it'd be easier to change these individuals than try to change this whole system.
Is it hard politically for a city to tell their citizens they're going to start paying people not to commit gun violence?
Yes. Especially if you frame it that way. You should let folks see the results. If we're paying $1,500 over nine months, that's not a lot of money. If it's working. And I'd say, hell, if we can stop gun violence at $15,000 a head — if that's working versus spending a million plus every time a person is shot in one of these shootings — I'll take that any day. And I think most people would.
I was being a little bit pithy there. Because what you're actually paying them for is to engage in life-changing experiences. One of which is travel, correct?
Absolutely. Many, if not most, of these individuals have never left their city. And many of them haven't even left their neighborhoods unless they're going to another neighborhood to do damage.
There's a whole lot of world and a whole lot of life out there. So we want to expose them. I think most people understand that exposure can enhance one's life, can enhance one's knowledge about what's possible. It's very difficult to dream about stuff that you don't even know exists. And so a major part of this transformative travel element is simply to get these guys out of what they know and into a bigger world.