Kwangu Kwako
Model & Strategy
6.4 million people in urban Kenya live in informal settlements without adequate housing that supports personal safety, safe water access, proper sanitation, and human health. Most of the structures that house low-income Kenyans are made of wood, mud, and/or metal, which are vulnerable to theft and to destruction from fire. One in two Nairobi residents, for example, lacks access to clean running water. Only 40% of Nairobi is connected to a sewerage system. Quality of housing and related infrastructure is not the only challenge: total supply is insufficient as well. Kenya faces a housing shortage of 200,000 units per year, and only 2% of formally constructed structures target low-income families.
Kwangu Kwako Limited (KKL) builds safe, affordable concrete structures that include electricity in every unit, as well as running water and sanitation facilities that are either shared among a small number of units, or fully private. They build both residential units and classrooms. KKL structures typically replace metal and wood or mud shanties, or bare-bones school buildings that lack electricity and sanitation. The anticipated lifetime of KKL's structures, with proper maintenance, is 20-30+ years. Maintenance costs are actually reported to be lower than for low-cost shanties.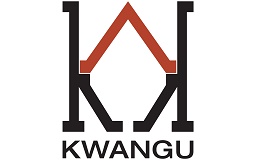 Founded: 2015
Systemic Poverty
Location of work: International, Africa
Kwangu Kwako
Nairobi, Kenya
Truly affordable housing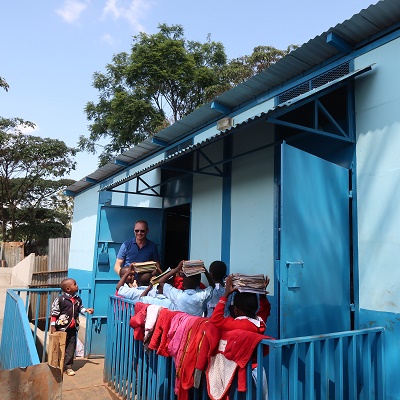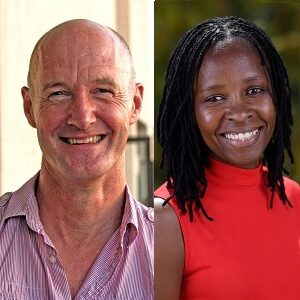 Meet Simon Dixon & Winnie Gitau
Simon Dixon is originally from the United Kingdom and has lived in Kenya for nearly a decade. Before co-founding Kwangu Kwako, he spent two years with Sanergy, which inspired him in part to address Kenya's housing challenges. His background is in real estate and construction, project management, and NGO work.
Winnie Gitau hails from Kenya, with expertise in nonprofit and human services work. Before co-founding Kwangu Kwako, she worked with VSOJitolee, a Ford Foundation implementing partner, as a field worker with HIV/AIDS affected communities; and with the International Rescue Committee (IRC).
Impact
KKL built 18 units in 2019, rising to 39 units in 2020, and is projecting to build 118 units in 2021. These units are a mix of studios, classrooms, and community structures all located in the urban settlements in 2 cities in Kenya.
The total number of beneficiaries that will utilize these units is projected to be more than 20,000 by 2025 and are a mix of students in the classrooms and families in the home units.
KKL has received early recognition from several sources: they participated in Santa Clara University's GSBI accelerator; Winnie was selected as one of 6 East Africa Fellows and the only female, and KKL won the Sankalp Africa prize in 2019.