Fundi Bots
Model & Strategy
Fundi Bots provides practical, hands-on science-education tools and resources that accelerate learning outcomes for African students. By 2030, the Fundi Bots goal is to radically improve learning for one million children across the African continent.
Fundi Bots works through two main learning experiences: an extracurricular learning model that uses robotics and an extracurricular model that develops learning tools for direct use within the national curriculum. These models provide practical, hands-on training for students in everything from building robots and coding to project-based learning experiences built on top of the official government curriculum. They utilize a well-rounded and engaging methodology to increase students' performance in classrooms, encourage exploration of science at home, and provide career training and technical skills through custom STEM programs and curriculum.
The Fundi Girls program leverages all of this to provide equitable access to high impact, practical science learning opportunities for girls in Africa.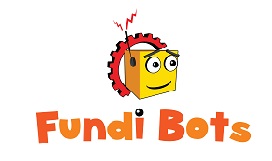 Founded: 2014
Education
Location of work: International, Africa
Fundi Bots
Kampala, Uganda
Accelerating science learning in Africa.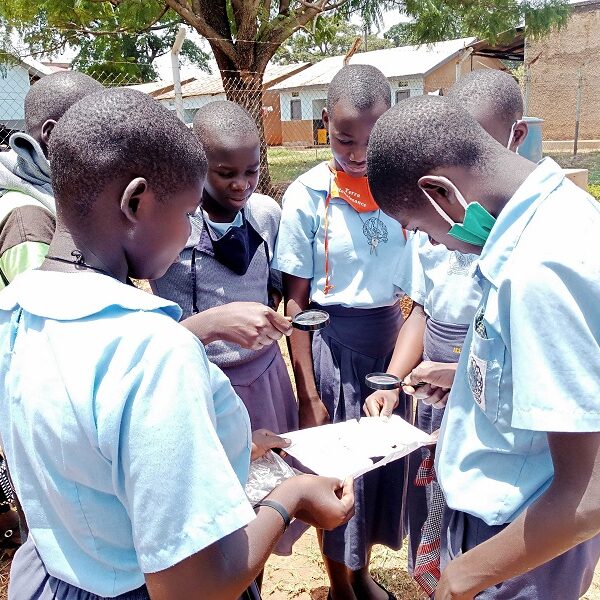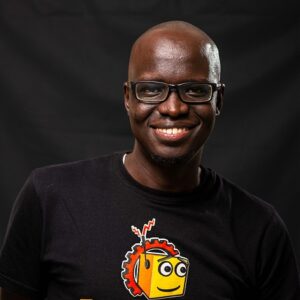 Meet Solomon King Benge
Solomon King Benge founded Fundi Bots as the fulfillment of a childhood dream and a desire to see better education systems in Uganda. After personally experiencing the frustrations and struggles of exam-oriented science education in secondary school in the 90s, Solomon's dream was to create a space in which learning for children could be fun, practical and purposeful.
In 2011, Solomon started Fundi Bots as a hobby project and grew it to a team of 115 over the next decade. In 2012, with a small grant from Google RISE, Fundi Bots held its first Robotics Camp at Nabisunsa Girls' Secondary School. In 2014, Solomon was selected as both an Ashoka Fellow and Echoing Green Fellow. These fellowships were the catalyst Fundi Bots needed to transition from a hobby project to a full-time non-profit organization. He has also been selected as an African Visionary Fellow by the Segal Family Foundation and a 2020 Skoll World Forum Fellow.
Impact
Since 2014, Fundi Bots has worked with more than 21,000 students, primarily in Uganda, with outreach training in Rwanda and Tanzania.
In 2022 alone, Fundi Bots was able to reach 10,500 students across all its programs, a significant jump from the 11,500 students it reached in the last ten years combined.
Fundi Bots is planning for increased scale, deeper testing and tighter curriculum integration as more classes and schools continue using their learning models, with a goal to reach one million students across Africa by 2030.
In 2022, Fundi Bots launched the Enhanced Science Curriculum (ESC) pilot with 34 schools, 65 teachers and over 6,000 students. The primary goal of the ESC is to integrate advanced, practical learning models directly into the official National Curriculum.
The results Fundi Bots is seeing out of the evaluations are very promising, with some schools seeing a 93% improvement in performance. The ESC program could provide significant impact at scale.