News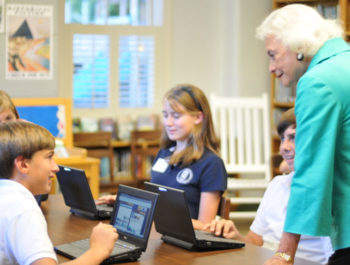 Spotlight on Justice O'Connor and iCivics in the NYT
March 1, 2016
Justice O'Connor became involved in digital games after retiring from the Supreme Court in 2006.  In 2009 she started iCivics, a nonprofit civics eduation group.  In the article, Justice O'Connor explains her reason to start iCivics because of her growing concern that many schools had abandoned the idea of teaching students to become engaged citizens.  She said she worried that students would not grow up to become good leaders, or even active voters, if they did not understand, say, the importance of an independent judiciary or their right to due process.
Since it's inception, iCivics has released 19 free online games, along with accompanying lesson plans, with the idea of making civics education less about rote learning and more about giving middle school students an animated glimpse into how different branches of government and the Constitution work.  About 3.2 million students played iCivics games last year, the group said, bolstering the growing belief among educators that interactive tools may improve students' engagement in their own learning.
Read the article here.