News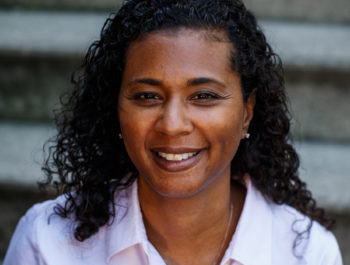 Aimee Eubanks Davis: Re-imagining College-to-Career Success
November 1, 2015
It is often said that college education is the ticket to upward mobility, the American Dream. While some believe that the American Dream still exists, others believe that soaring student loan debt and the shortage of post-college jobs undermine this very ethos. Contributing factors– such as a lack of a professional network or the inability to obtain the "right" type of relevant work experiences in one's desired field of interest while in college –further compound the difficulty of obtaining one's first professional job, the first step towards economic freedom.
This is where Braven, an educational nonprofit founded in 2013 by Aimée Eubanks Davis, comes in.  Braven, a college-credit leadership and career Accelerator program, seeks to equip college students — primarily students of color, students from low-income communities, and/or first-generation college students — with professional skill-building, networking, and learning experiences to ensure participants complete college and land strong first jobs in fields of interest — ultimately creating pathways for long -term sustained careers and increased economic independence. The Braven Accelerator is a 15-week course that is followed by a campus-based alumni program. Students, primarily college sophomore and juniors, are put in a cohort of 5-7 with a young professional coach who leads and manages the students.  Aimée believes that networking and collaborating during the fellowship is key to a Fellow's success. "Sixty to 80 percent of jobs are secured through referrals," she says. "Networks help to validate you and get your foot in the door. Furthermore, people are often incentivized by employers monetarily [to open up their networks to business opportunities]. Much of business is done through networks."
Click here for the full story.