News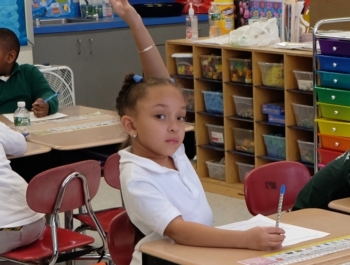 Gov. Baker Visits Springfield, Applauds Empowerment Zone School Efforts
May 16, 2017
Massachusetts Governor Charlie Baker and Secretary of Education Jim Peyser stopped by Forest Park Middle School to visit a classroom and meet with Mayor Domenic J. Sarno, Superintendent of Schools Daniel Warwick, principals and teachers who say the Empowerment Zone Partnership has changed the way they run their schools.
"I was so impressed when I was here the last time and this is moving in a very positive direction for the city, for the students and their families, and for teachers and administrators," said Baker, who spent about an hour with the group.
Chris Gabrieli, chairman of the Springfield Empowerment Zone Partnership, said the model began in the fall of 2015, and is designed to aid nine struggling middle schools in Springfield, along with the High School of Commerce.
"It's the innovation that educators are crying out for. We are highlighting the art of teaching and it empowers teachers to fall in love with teaching again. I truly know that I'm affecting real change, not only in my classroom but in the whole school."