Tiny Totos Kenya
Model & Strategy
Tiny Totos Kenya enhances early childhood development in eastern Africa's slums by working with existing, slum-based daycares to help them provide improved standards of care to children and earn more money from their work. Their intervention model in helping transform substandard daycares to quality centers of care includes entrepreneur coaching, education around early childhood development, mentorship, and access to finance. Tiny Totos Kenya is creating a growing association of upgraded slum-based daycare centers in lower-income urban areas of Nairobi, while also creating opportunities for additional value and revenue from the growing customer base they serve to meet operating costs. Beyond striving for unit economic profitability and network sustainability, Tiny Totos has already made remarkable strides in terms of children's development: all children receive health screenings and access to nutritious meals that result in significant improvements to their overall health and weight.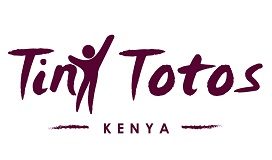 Founded: 2016
Systemic Poverty
Location of work: International, Africa
Tiny Totos Kenya
P. O Box 14473 - 00800
Westlands, Avellino Court, C4 - Lower Kabete Rd, Opp Brookside Dr
Nairobi, Kenya
Safeguarding the health and wellbeing of preschool children in Nairobi's slums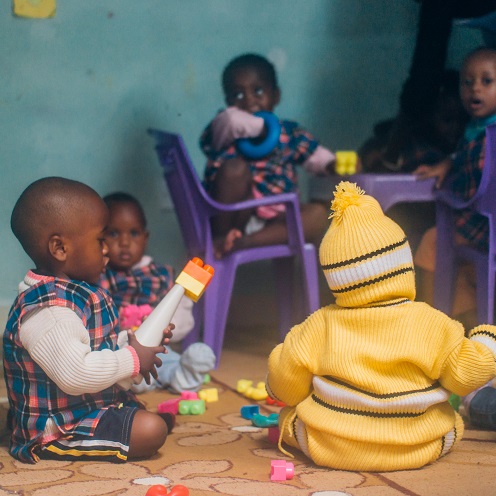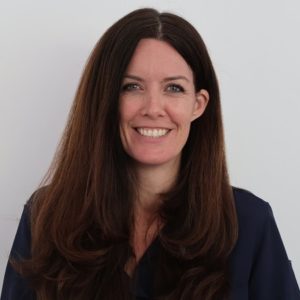 Meet Emma Caddy
Emma Caddy moved to Nairobi in early 2012 with her Kenyan husband and young children, having spent the last 15 years working across the globe as a community livelihoods program manager and impact fund manager.  In this role, she supported, designed, built and invested in small and medium-sized enterprises whose products or services generated social and environmental good as well as financial returns and independence.
Emma stumbled into the slum daycare sector by chance, having initially looked at supporting a single daycare in the slum of Mathare. She quickly realized this daycare was just one of the thousands operating in slums that poor, working mothers relied on every day to leave their children in order to go to work.  Emma was struck by how widespread the informal daycare market was, and that regardless of the poor levels of service provided, clients were still willing to pay for it. She decided to take on the challenge of elevating the quality of daycare services as a means to move the needle in early childhood development innovation.
Impact
>2,500 children have received quality pre-school education
>45,700  nutritious meals sold at Tiny Totos Kenya partner daycares
>1,640 working mothers receiving childcare and entrepreneurship training
>720 clients with access to financial services
Tiny Totos Kenya's partner daycares average x4 profit increase per year
Fundraising takes time. Start early but make sure you get the story right and demonstrate traction on the ground

#SankalpAfrica19

RT

@UKinKenya

: ..The impact investment ecosystem needs to empower women by giving them space to be creative & realise their potential in bu…

Trying to 'fix the women' assumes that it's the women who are the problem but in reality, the systems are the probl…

https://t.co/CNzbaYIeAW

We talk about including women in business like it's a favor, but businesses actually perform better when we have wo…

https://t.co/3JBm174Byq

It's time for a delicious and nutritious lunch 😋

On 16/02/2019, we had a business training on financial records keeping for our daycare partners.

Play time 😄

Praising your child's accomplishments, however small, will make them feel proud and boosts their self esteem.

On 25/01/2019, we had our annual Strategic Meeting facilitated by Alexander Sundin to plan for the year ahead. We l…

https://t.co/GGtG3ARheq

RT

@MTotoNews

: Improving outcomes for children with cancer requires early and accurate diagnosis followed by effective treatment #WorldCanc…

RT

@MTotoNews

: The most common categories of childhood cancers include leukemias, brain cancers, lymphomas and solid tumours, such as neuro…

Lucy was all smiles as she was recognized as the best in data collection and book keeping during the cohort 1 peer…

https://t.co/ZoBArEOf15

Tiny Totos is delighted to have the support of EY in seconding their Manager Alexander Sundin for 3 months to work…

https://t.co/Ln6DMIAMUX

About to have a warm drink to start the day.